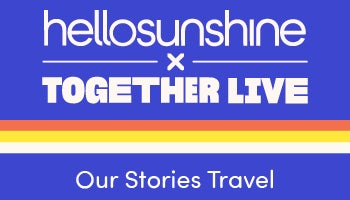 The third annual Together Live event came into Chicago last night & I was happy to attend for the second year in a row. Last year we went because we were excited about an event like this. The aim of the night is storytelling from all different types of women. When do we get a chance to hear stories and be called to action IRL (in real life)? This year Reese Witherspoon brought her company Hello Sunshine to the event and co-sponsored along with Together Live. My friends Kristin, Kasia, and I were blown away by the number of women this year. At first blush, you might think Reese Witherspoon pulled in a lot of people on the periphery, but the cheering and applause as Glennon Doyle peaked around the curtains made it evident that she was the reason we all came together.
Glennon has had her share of success through her website Momastery. book Love Warrior, social media presence and social & racial justice activism.  I like Glennon because she's comfortable. funny, and really honest. She's just an excellent speaker, she's eloquently messy. She's shown us all her not-so-pretty side through addiction, sobriety, marriage, and parenting in her book Love Warrior. She's since championed the needs of those who are marginalized, put herself in the line of fire, and has risen up through grace to face her followers and critics again and again.
When we got upstairs we were greeted by a full theater below us. Almost every seat was filled. After we found our seats (which we were shocked to see were BOX seats) singer, songwriter Milck welcomed us with a soft, but powerful rendition of "Ooo Child". We had never heard of Milck, but were quickly converted to fans.
Our MC for the night, literary agent Jennifer Rudolph Walsh, ushered in the rest of our storytellers for the evening:
If you have never been to one of these events, the atmosphere they aim to create a cozy intimacy among tens of thousands. The stage was set up as a living room filled with trendy furniture, plush rugs, throws, and the storytellers.
The theme of the night quickly became apparent, "Your Voice Matters." Though this was not the official theme of the night, the storytelling were nods to this idea. I thought I would share some of my favorite points from each of the women.
Priya Parker
Priya's book The Art of Gathering focuses on what she calls transformative gathering. Priya's interest in why and how we gather comes from her stunning background. She highlighted this by drawing attention to her name PRIYA PARKER. A true mix of two cultures. She was born an only child in Zimbabwe to an English Indian mother and an American father. After her parents moved her to the United States their marriage fell apart and Priya soon found herself living between two very different worlds. In order to get us in the mindset of what her life was like Priya took us through an exercise. We stood if the statements applied to us. Statements like, "I consider myself a loner." "I am a troublemaker."
Priya touched on how each of us plays a role in making change happen. My favorite part was when Priya talked about loners. I consider myself to be a bit of a loner when it comes to socializing. Priya's perspective on loners was fascinating, "loners know what they want to create" which is why they stand on the periphery. We don't always need to be in the middle of the action because we are on the side determining how we want to act and collecting information.
Priya encourages us to seek a need for a gathering rather than focusing on form. We can get so caught up on what things need to look like rather than focusing on the need to connect. We don't have to wait for things to be perfect, the invites to be sent out, or our houses to be clean. If there is a need to meaningfully connect, we must act on that. There is meaning and importance in connection even if it is just to create a temporary alternate reality.
Ultimately, Priya asks us to listen deeply enough to be changed by what you hear.
There is just too much good stuff to write about in one post. I'll be sharing more later this week about the rest of the event.